As the live music in Phnom Penh wax, wanes and morphs into a boutique-gig based framework, the significant local players have been moving to extol their sounds in the smaller bars and restaurants tucked away down small alleys or back-streets, or in the lounges of the larger, more expensive hotels. This is punctuated by the occasional power gig at the more dedicated music venues like Sharky's.
However, next week will see one of the most significant events in the ever evolving local live music and arts scene. It will see the emerging, dilettante arts scene of Kampot morph into something much more significant. It is the inaugural and annual Kampot Writers and Readers Festival (KWRF).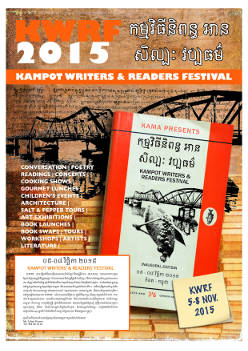 The KWRF festival is billed as "
mix
of authors, musicians, poets, artists and general 'wordsmiths' … a
4-day soiree of workshops, roundtables and live music events
". Put together by
Julien Poulson
, founder of the Kampot Music and Arts Association (
KAMA
),
Wayne McCallum
and
Robert Starkweather
, the festival is the female sibling of it's Indonesian counterpart – the
Ubud Writers and Readers Festival
that is happening in Bali over the next few days. The festival is aimed at mercenaries of the pen but also boasts some significant live musical performances. These being the likes of local acts – the Khmer Magic Music Bus,
Master Kong Nay, the Kampot Playboys, the Cambodian Space Project, and the Bokor Magic Mountain Band – and international acts such as The Shabbab, and last and by no means least acclaimed performer
Paul Kelly
Paul Kelly is very much one of Australia's greatest singer / songwriters. He is one of those rare
individuals that is able to hold 10,000 people in the palm of his hand. He does this by using just his love-ladened vocal melodies, his acoustic guitar and his warm poetic words. Although his lyrics are imbued with stories of the places he was born and has traveled – they also contain that rare commodity of a person who is able to speak directly to the needs, thoughts and feelings of people wherever they may be and whatever culture from which they are derived. David Fricke, senior editor from the Rolling Stone magazine for over 30 years, once called Kelly "one of the finest songwriters I have ever heard, Australian or otherwise".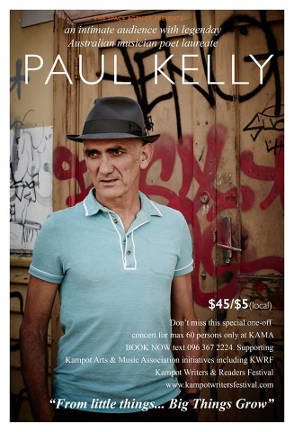 I have witnessed Paul Kelly's performances several times over the years and one night in particular I remember with fondness. It was a concert in the hills just outside of Perth in Western Australia back in 1993. The venue was called
The Belvoir
. The Belvoir is a wonderful, natural, outdoor amphitheater with wide, terraced, grassed seating and as clear a view to the star-filled sky as to the large star-filled stage. A place where tall, robust eucalyptus trees keep company with agreeable audiences. It is often possible to bring in an esky (cooler box) full of beers, wine and "nibblies" (or whatever else takes your fancy) and sit back and enjoy some of the best live music performances available.
The time Paul Kelly played there, it was a still, warm and balmy night. A spotlight and a man with his guitar and voice and words. Lauding stories of urban beauty from the Australian back-streets that are all too often hidden from that place people keep special in their heart. An appreciative audience that waits for the final resonance of the last note to fade before filling the star-ladened night with warm and grateful applause.
When Paul Kelly arrives in Cambodia this coming week to be part of KWRF and to meet and play with some of the countries most celebrated performers, together with the regional drifters and musicians from the far-flung hill tribes of Cambodia, you could be forgiven for expecting that something special and significant
will happen.
 Tentative Festival Schedule
Thursday 5th
10:00 – 12:00
Registration Office Opening
Festival Office – KAMA
10:00 – 18:00
Stories Through the Lens
Open Space
12:00 – 14:00
Media & Administration Session
Media Centre – KAMA
14:00 – 16:00
Festival Retail Centre & Bookstore Opening
Kayak
17:00 – 19:00
Festival Opening Ceremony
KCDI
19:00 – 20:00
Launch Dinner for Sponsors, Staff & Guests
Epic Arts Performance Hall
20:00 – 21:00
Launch Dinner – Epic Arts Entertainment
Epic Arts Performance Hall
20:00 – 22:00
Bawdy Poets – Low down Literary Salon
Couch Potatoes
20:00 – 22:00
Cambodia Vinyl Archive
Baraca
22:00 – 00:00
DJ Dangdut
KAMA
22:00 – 00:00
Kampot Play Boys
Madi Bar
Friday 6th
10:00 – 12:00
Wired to Travel
Ellies Café
10:00 – 12:00
Cambodian Arts in Action
Book Launch & Panel
Epic Arts Cafe
10:00 – 12:00
Death Becomes Them
KAMA
10:00 – 12:00
Cooking Demonstration
Two Moon
12:00 – 14:00
Stories beneath the Headline
Journalist session
Rikitikitavi
14:00 – 16:00
Nou Hach Session (Khmer Poetry)
Epic Arts Cafe
14:00 – 16:00
Khmer Pop – Inside the song
Baraca
16:00 – 18:00
Graphic Novelist Mayhem
Epic Arts Cafe
16:00 – 18:00
Film Screening
Inside the Belly of a Dragon
Ecran
17:00 – 19:00
Songwriters Acoustic Session
Open Space
18:00 – 20:00
The Hugh & Jem Show
Couch Potatoes
20:00 – 22:00
Mekong Memoir – Indochine Tales
KAMA
20:00 – 22:00
Kane & Lelo
Tantrei
22:00 – 00:00
An Invitation with Paul Kelly
KAMA
Saturday 7th
10:00 – 12:00
From Pen to Shelve
Publishing & Selling workshop
KAMA
10:00 – 16:00
Cartoon Workshop
Our Books – John Weeks
Epic Arts Cafe
12:00 – 14:00
Kampot Curry Cook Off
Two Moons
14:00 – 15:00
From Page to Stage
Sue Broadway
Epic Arts Cafe
14:00 – 16:00
E-publishing 101
Ellies Café
16:00 – 18:00
Tales from the Noir-side
Couch Potatoes
16:00 – 18:00
A History of Violence
Chez Aline
16:00 – 18:00
Magic Bus
KCDI
18:00 – 20:00
LAUNCH – Mekong Review
Auberge Du Soleil
18:00 – 19:00
Bokor Mountain Magic Band
Mad Monkey
19:00 – 20:00
Shadow Puppet Show
KCDI
19:00 – 20:00
DJ Mute Speaker
Mad Monkey
20:00 – 21:00
Bokor Mountain Magic Band
Mad Monkey
22:00 – 00:00
The Shabbab
Tantrei
Sunday 8th
10:00 – 12:00
A Kampot Historic Journey
Kampot Museum
10:00 – 12:00
Iain Donnelly – Angkor Away
KAMA
10:00 – 12:00
A Kampot Historic Journey
Kampot Museum
10:00 – 16:00
Cartoon Workshop
Our Books – John Weeks
Epic Arts Cafe
12:00 – 14:00
LAUNCH –Spirit Worlds
Baraca
12:00 – 14:00
Festival Pop-up
Incl. Red Rock – Chinese Rock history
KAMA
14:00 – 16:00
Inclusive Arts, Epic Encounters & Sign Language
Epic Arts Cafe
14:00 – 16:00
Khmer Women's Literature
Ellies Café
16:00 – 18:00
Songwriters Acoustic Session
Tantrei
19:00 – 00:00
Closing Ceremony
Khmer Street Party
Featuring Paul Kelly & many more acts
TBC